Holly is a character in the Amercan television series Baywatch.
She was portrayed by actress and model Heidi Mark.
Physical Appearance
Edit
Holly is a beautiful slender woman in her mid-twenties with long blonde hair and blue eyes.
Personality
Edit
Holly is a very caring person which is shown when she helps an annoying photographer out of the pool and when she warns him not to lean too far back when he is taking pictures of her on the rocks near the ocean.
Baywatch
Edit
Holly is first seen relaxing in a chair next to the pool possibly enjoying a holiday in Hawaii. A photographer called Carlton Edwards falls into the pool and she comes to his rescue. Carlton asks her if she would like to pose in a shoot for him. She agrees.
Later Carlton is taking pictures of Holly on some rocky crags. She warns him that he is too close to edge but he doesn't listen and ends up swept over the edge into the ocean when the waves crash against the rocks and then pulled into an underwater cave where the water rises higher and higher.
After seeing two Hawaiian lifeguards she asks for their help and one of them goes for back up.
Baywatch Lifeguard Stephanie Holden arrives with another hawaiian lifeguard Mark Kealoha who rescues Carlton from the cave. Holly watches as Carlton is taken to hospital assuring him that everything will be alright.
She is then finally seen with Stephanie and Carlton driving to the beach helping them find a missing piece of lava rock which is said to bring bad luck (Carlton had previously taken it as a good luck charm). They eventually find it and she waves goodbye as Carlton and Stephanie swim to the rock to put the piece back.
Holly is finally seen enjoying a hawaiian party with Carlton, Stephanie and Mark who are celebrating Stephanie's sister Caroline's engagement to fellow lifeguard Logan along with other fellow lifeguards Mitch and Matt.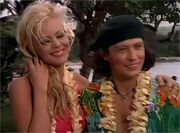 Holly goes with Carlton to thank Stephanie for her help and he announces his new job at Turtle Bay and he and Holly have become a couple. She then poses for a picture with Stephanie and the others and continues to enjoy the festivities.
Heidi first appeared in the Season 5 episode Promised Land where she played an un-named con-artist who posed topless whilst having a shower distracting the men on the beach while her male partner stole their possessions. Eventually they were caught by Garner and their scam came to an end.
Ad blocker interference detected!
Wikia is a free-to-use site that makes money from advertising. We have a modified experience for viewers using ad blockers

Wikia is not accessible if you've made further modifications. Remove the custom ad blocker rule(s) and the page will load as expected.