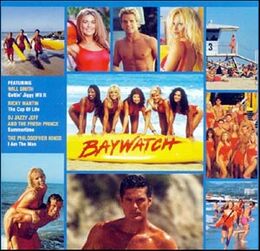 Baywatch is the soundtrack album to Baywatch.
Track listing
Edit
The Cup of Life (Remix - English Radio Edit) by Ricky Martin
Gettin' Jiggy wit It (Album Version) by Will Smith
Guantanamera (Carnabeat Short Version) by Wyclef Jean
I Like It (Like That) (Remix '97) by Blackout All Stars
Summertime by DJ Jazzy Jeff and the Fresh Prince
Shy Guy (7" Radio Edit) by Diana King
No, No, No (Part 2) by Destiny's Child and Wyclef Jean
Tease Me by Chaka Demus and Pliers
Gimme Love (Radio Version) by Alexia
Fantasy Island by M People
Show Me Love by Robyn
Barbie Girl by Aqua
How Bizarre by OMC
Quit Playing Games (with My Heart) (Video Version) by Backstreet Boys
Marvellous (Edit) by The Lightning Seeds
Naked on You by Treana
I'm Always Here (Original Baywatch Theme) by Jim Jamison
Ad blocker interference detected!
Wikia is a free-to-use site that makes money from advertising. We have a modified experience for viewers using ad blockers

Wikia is not accessible if you've made further modifications. Remove the custom ad blocker rule(s) and the page will load as expected.